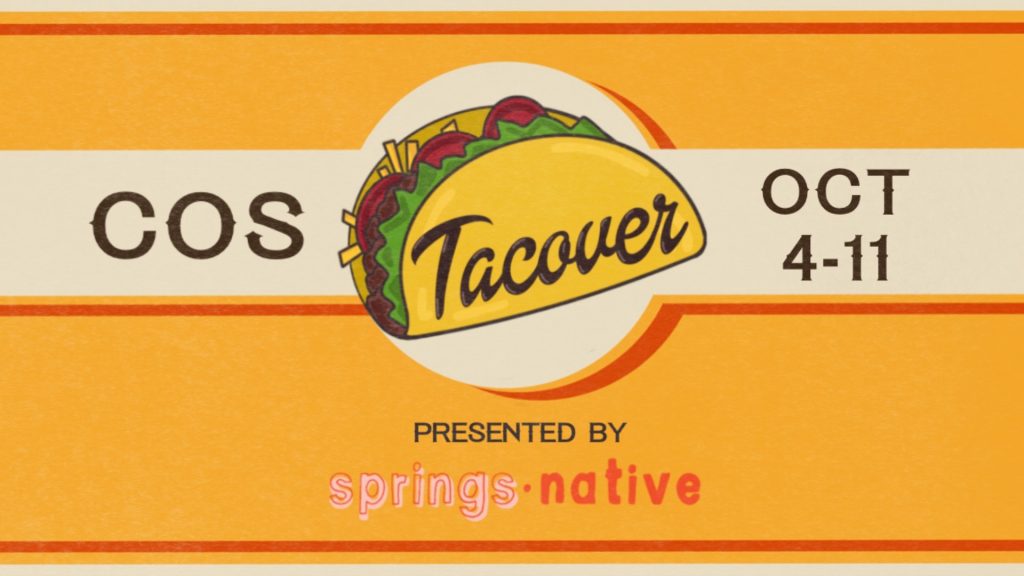 October 4-11, 2020 we're celebrating tacos. Why celebrate National Taco Day ONE day, when we can celebrate all week long? If you love tacos in any form, COS TACOver is for you! Restaurants across Colorado Springs are offering a taco special the entire week, starting on National Taco Day on October 4th – and it's not just taco restaurants! You'll be able to taste a variety of taco-themed dishes from a taco donut, to street tacos, to dessert tacos. Now that's what I'm tacoing about. Plus, we'll have a bunch of gift card giveaways to participating restaurants when you post your tacos on Instagram with the hashtag #COSTACOver.
Here's How it Works
Each participating restaurant is offering a special COS TACOver special. Some are offering a taco-themed dish, some are having their tacos on special, and others even have drink specials to go along with taco dish! Maybe it's already on the menu, maybe it was made specially for this event. Almost all dishes are available for dine-in or to-go, and many offer add-on drink specials! No need to TACO bout it, just grab a friend and get eating.
PLEASE NOTE EACH RESTAURANT'S HOURS. Some restaurants are not open daily, and it is best to look at their website or call to make sure they're open.
Participants

Breakfast Tacos Plate $8
Breakfast tacos with eggs, potatos, green chiles, cheese and salsa.
Smoked Pork Tacos Plate $8
Smoked Pork with a chipotle slaw, served on a flour tortillas.
Drink Specials
$6 Bloody Maria's with any taco order.
$6 Mystery Margaritas all week long.
stircoffeeandcocktails.com

Fiesta Tacos Platter $10.50
One taco with poblano chili slices, glazed onions, creamed with corn, one cactus sautéed with onions, and one chicken tinga.
All taco platters on special for $10.50 for the week.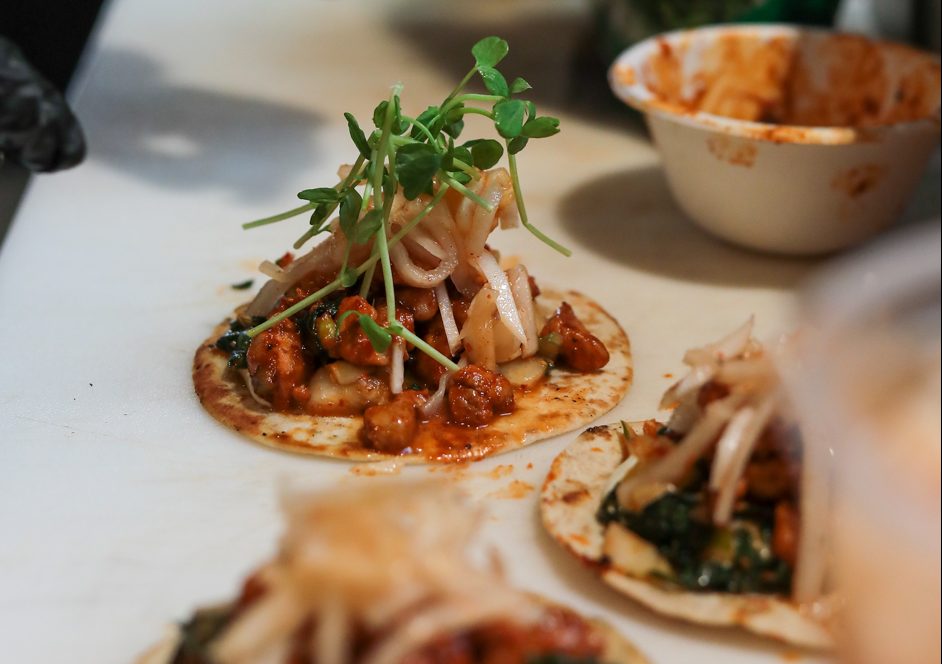 Spicy Gochu Pork Taco $5
Spicy Gochu pork on a flour tortilla with wasabi sour cream.
Spicy Gochu Pork Taco w/ Kimchi $5
Spicy Gochu pork, bok choy kimchi, sweet 'n' sour daikon.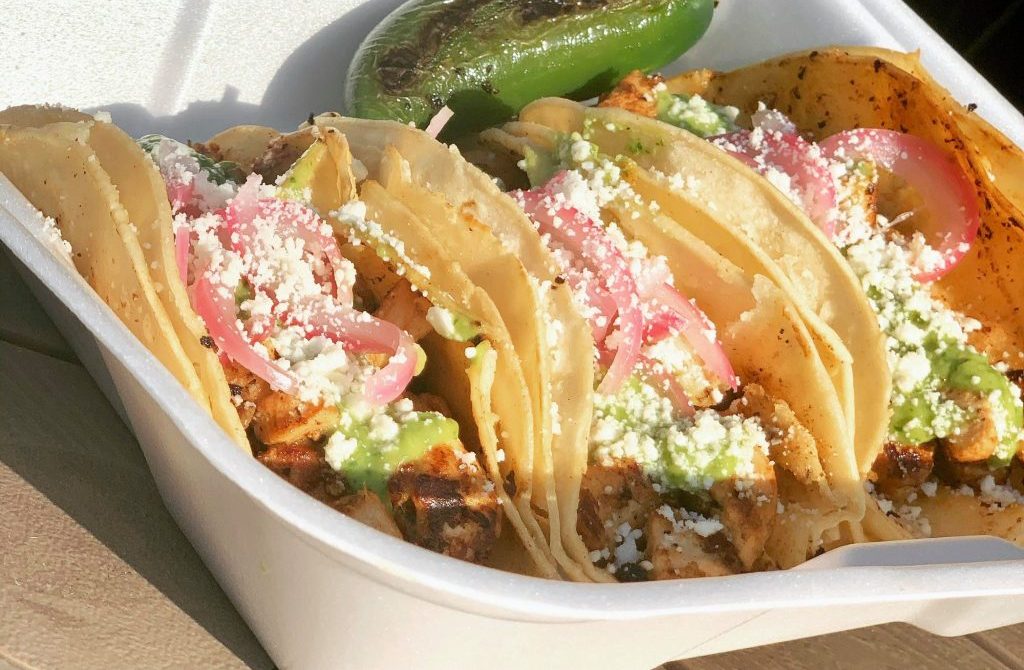 Chili Lime Chicken Tacos $9
Marinated grilled chicken served on three fluffy Raquelitas corn tortillas with avocado salsa, pickled red onions, and queso fresco. Served with a roasted jalapeno.
rollupfoodtruckmenu.com
Go Fish Food Truck

Fish Tacos $12
Three grilled, wild-caught, Alaskan cod tacos seasoned with Old Bay, served on flour tortillas with our avocado pico and Citrus Slaw. Served with a side of our homemade tartar sauce (Gluten free on corn tortillas or on a bed of lettuce).

Shrimp Tacos $11
Three Cajun Fried Shrimp tacos served on flour tortillas with our Avocado Pico and Citrus Slaw.
you-kacafe.com
You-Ka Cafe

Pork Sisig Tacos $10.99
Four tacos filled with diced roasted pork, calamansi aioli and two kinds of toppings / papaya atchara and pickled cucumber ginger radish. Served with plantains
you-kacafe.com
Spicy Fried Shrimp Taco $3.50
Panko parmesan fried shrimp with island slaw on a corn tortilla.

Panko Crusted Avocado Tacos $8.95
Panko crusted avocado slices served with a carrot ginger salsa on your choice of flour or corn tortilla.

Shrimp Tostada $9.95
Shrimp salsa with tomato, cucumber, onion, cilantro, jalapeño, lime served on three corn tostadas, topped with fresh avocado
laaustacoshop.com
BYO Street Tacos for 4 $62.00
Corn Chips (1/2 pound), Fire Roasted Salsa (1 pint), 4-inch Flour Tortilla (18 shells), Carne Asada (1 pound), Thai Basil Chicken (1 pound), Sriracha Jackfruit (Veg) (1/2 pound), Roasted Pineapple Salsa (1 pint), Shredded Cabbage (1 quart), Pico de Gallo (1 pint), Avocado Crema (1/2 pint), Jack Cheese (1/2 pound), Queso Fresco (1/2 pound), Cilantro.
Pickup at Garden of the Gods Catering Location, 8605 Explorer Drive. Dates available for pick up: October 4th through October 11th between 9 AM and 2 PM. Please email jessica@godscateringandevents.com or call 719.471.3663 to place your order.
godscateringandevents.com
Taco Trio Plate $12
Smoked Portobello Mushroom Tacos with Jalapeno Tomatillo Jam, Watermelon Radish, and Cotija Cheese.
fourbybrotherluck.com

Street Style Tacos $2 each (deal only available from 2PM to 5:30PM)
These tacos are filled with delicious, slow- roasted shredded pork. Topped with fresh diced onions, cilantro and avocado cream.
arlenesbeans.com
Dessert Taco $8
Crepe shell, chocolate cookie ice cream, devil's food cake, milk chocolate drizzle.
facebook.com/xoxo-dessert-bar
Fried Crawfish Tacos $13
Three fried crawfish tacos, filled with greens, pickled onions and jalapeños, bang bang sauce, and queso fresco.

Superfood Tacos $9.50
Sweet potato and black bean tacos with chipotle jicama salad.
TACOver Weekly Specials $5
Incendio: tequila, Tabasco
Sangria: red wine, juice, liqueurs
Sunday Special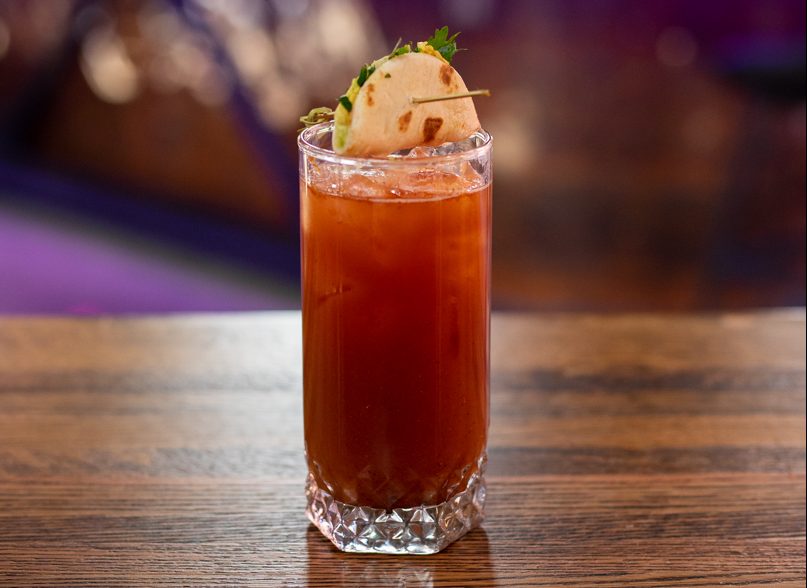 Chile Queen $10
*contains gluten and dairy
habanero tequila, bloody mix + mini taco (flour tortilla, avocado, cilantro, queso fresco) + creme fraiche.
Monday Special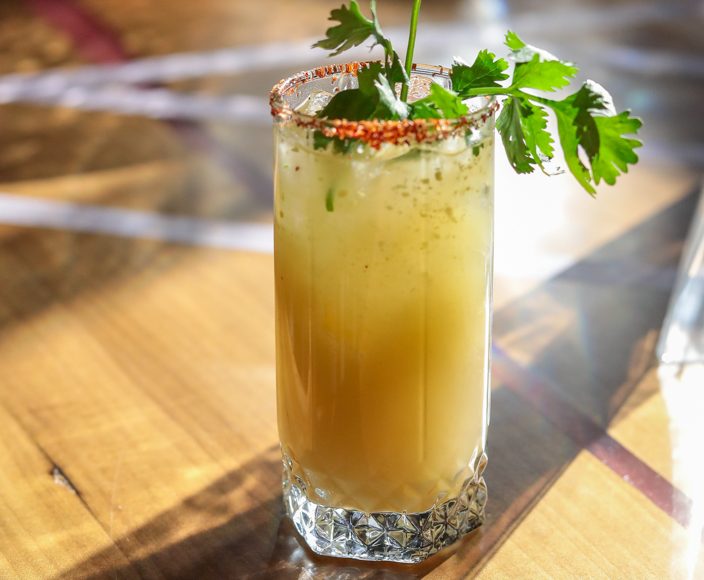 Cheran $10
tequila, avocado, agave, lime, orange liqueur, cilantro
Tuesday Special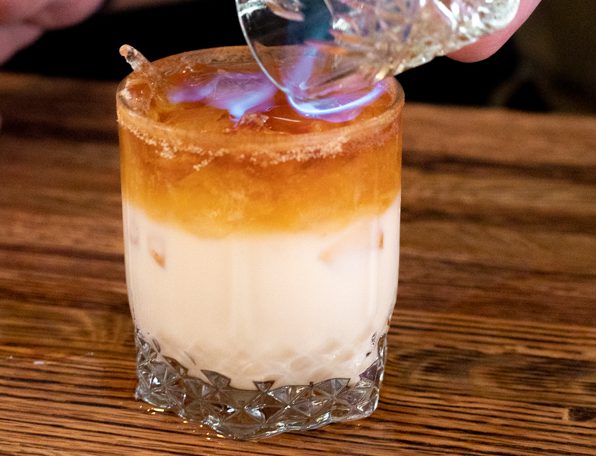 Dulce Revolution $10
*contains dairy
bourbon, irish cream, Frangelico, cinnamon, vanilla, rum
coatiuprise.com/rival-bar
Shrimp Taco $4
Details Coming Soon.
facebook.com/luchalsgourmetcatering

Taco Fries $12
Fajita Curly Fries loaded with T-Byrd's queso, ground beef, shredded lettuce, diced tomatoes, cheddar cheese, pickled jalapeños, chipotle sour cream
tbyrdstacos.com
Find more details and updates on the Facebook Event.