Brunch. Few things make me happier on a Saturday morning than a breakfast made fancy by being called brunch. This Saturday, I was lucky enough to attend a blogger brunch hosted by Denver Style Magazine. It was called Diamonds in the Daytime and a bunch of bloggers, mostly fashion but some food and travel, got together to network, talk style and have a fun morning.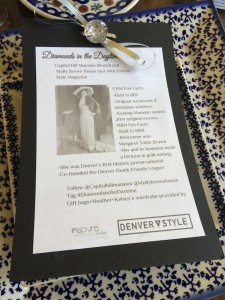 We started at Capitol Hill Mansion which, in itself, is worth a getaway to Denver. The rooms are absolutely beautiful and the owner and his daughter, Carl and Bailey, were so kind and entertaining! We began with brunch, cooked by Carl himself!
Each spot at the table was placed with beautiful plates and flowers sat in the middle of the table. The french press coffee was piping hot and very well brewed.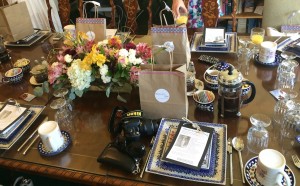 Carl and Bailey were quick to greet guests, make sure we had a full coffee cup and get us started on fruit and toffee pecan cake while we waited for the main course to be served.
The toffee pecan cake was a cross between a cinnamon coffee cake and some type of caramel concoction. I'm not big on sweets in the morning, but this was well worth the stomach space.
After a few minutes, we were served with baked Italian omelets with sautéed spinach, scallions, mozzarella and prosciutto, placed on top of cream cheese mashed potatoes and served with a freshly baked croissant on the side. Wow. Who knew mashed potatoes in the morning could be SO good?
I have this weird thing with baked omelets – I'm always worried about it being watery. There was a bit of condensation on the plate but it was definitely not watery. The tomatoes were cooked but still firm and there was just the right amount of cheese! Those mashed potatoes were definitely the winner though. Carl cooks everything in-house and I'm curious to see what some of his other menus look like.
Following brunch we walked to the Molly Brown House for a private tour and a quick history lesson (FYI no one actually called Molly Brown "Molly" until her death. Her name was Margaret).
The entire event was a great way to connect with other bloggers, have some fun girl time AND have an excuse to check out local clothing boutiques in Denver (Thanks, Inspyre Boutique for the wonderful goodie bags)!
Some of the bloggers I met at Diamonds in the Daytime included:
If you're not just a fan of food, but fashion as well, make sure to check out their blogs. While you're at it, make sure you pick up a copy of Denver Style Magazine's most recent issue.
Not a fan of fashion? That's fine. Fancy digs aren't necessary at Capitol Hill Mansion, but a big appetite is! It's a perfect spot for Mother's Day Brunch and the garden area will be open for reservations soon as well.
Thanks again to Denver Style Magazine for the wonderful event.
Happy eating… and shopping!