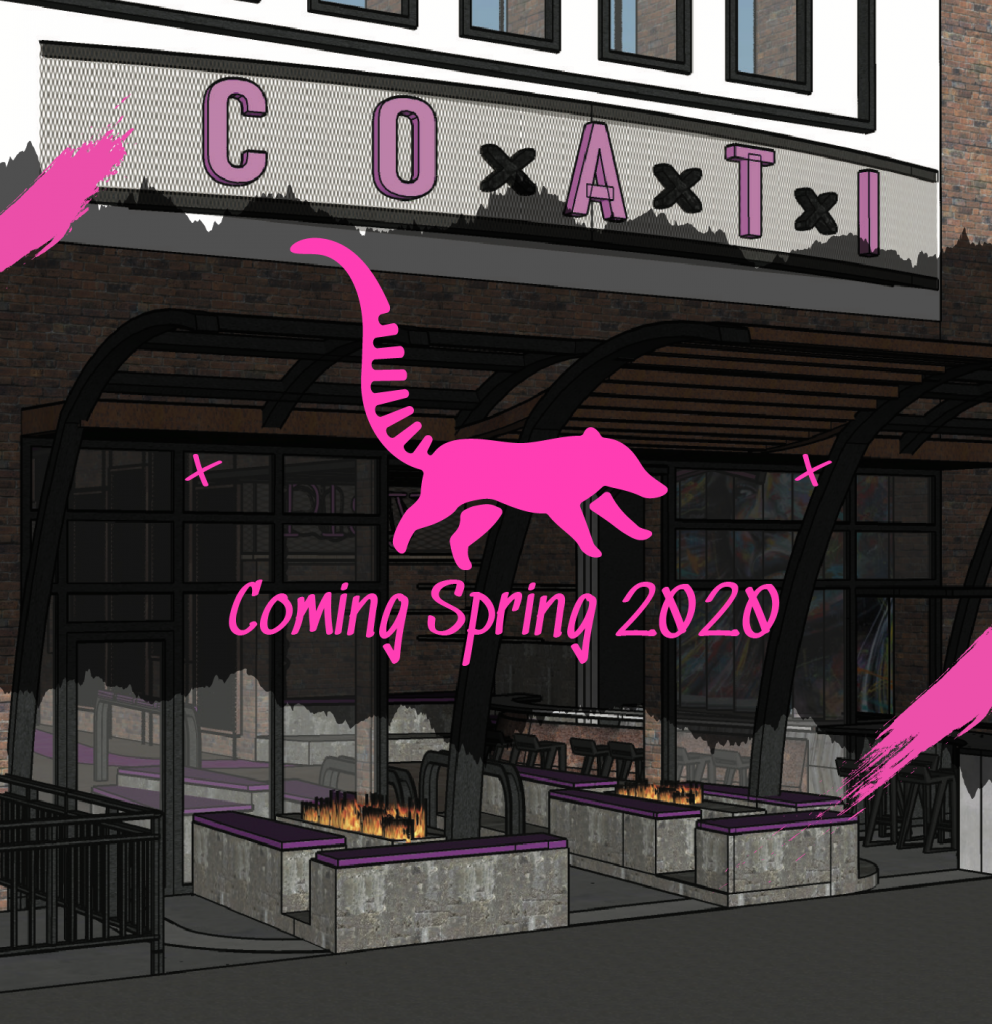 UPDATE: CO.A.T.I is looking at a mid-summer opening, so continue to check back for more details.
A new multi vendor marketplace is coming to South Tejon Street this spring. CO.A.T.I, located at 516 S. Tejon St., was announced today by Niebur Development, Atlas Restaurant Group and Pikes Peak Brewing Company. CO.A.T.I will anchor the Trolley District's newly approved entertainment district and will be host to a brewery, bars, eateries and event space.
The open market itself aims to create an energizing atmosphere using eclectic events and vendors to bring the energy and excitement of the weekend to a weeknights. The goal? To drive collaboration within Colorado Springs' first ever entertainment district with a common consumption area for adult libations, anchored by established businesses such as Pikes Peak Brewing Company, with hopes that neighboring businesses will allow guests to come and go freely on public right of ways.
The Tenants
Similar to food halls and other concepts in Denver, CO.A.T.I will be home to a mix of restaurant and food concepts throughout the building. The first generation of vendors will feature Anju Korean Eats from Chef Andres Velez of Piglatin Cocina as well as other up and coming chefs specializing in vegan fare, new American cuisine, a raw bar, and a health forward juice bar. CO.A.T.I will also act as a distribution point for vendors Death by Cheesecake and Blank Coffee Donuts, and the like.
In addition to established vendors, the space also includes culinary incubator food pods, allowing up-and-coming restaurateurs to test new concepts and bring unique dishes to Colorado Springs.
"We want to disrupt the current food, beverage and entertainment scene in our city," said Atlas Restaurant Group owner Aaron Ewton."Not to polarize the current players, but to give them another opportunity to tear down walls, build room for experimentation and disprove preconceived notions about Colorado Springs."
Beverage-wise, Pikes Peak Brewing Company will offer local beers, and three bars in the space will offer a mix of craft cocktails, as well as mocktails, to accommodate all customers.
The Space


CO.A.T.I is named after a tropical raccoon in Mesoamerica. In Spanish, the coati is referred to as "tejon", a serendipitous tie to its location on South Tejon Street. The name is represented as an acronym for Colorado Automatic Trolley Interchange, to pay homage to the building's history, which was used for trolley maintenance for more than five decades.
While the space will showcase the original steel web trusses, skylights and brick, the new design and renovations focus on a neon industrial aesthetic, with experiential street art throughout the building. CO.A.T.I will offer flexible event space with Uprise Bar & Events, occupying a large mezzanine overlooking the happenings below.
"We want to create a space that challenges ourselves and our guests to take greater risks, push boundaries and break through some ceilings previously set," Ewton said.
The cultivators will activate the alley between Tejon Street and Cascade Avenue with commissioned street art. It will host live performing artists and events with a sense of rebellion.
Slated to open Spring 2020, there's not yet a set open date. You can get more information about CO.A.T.I on their website, or follow them on Instagram and Facebook for updates.
Get a Sneak Peek
CO.A.T.I will co-host a special VIP experience with Springs Native today at Taste of Pikes Peak, along with a booth in the general admission area of the event. Tickets to Taste of Pikes Peak are available here.