Colorado Mountain Brewery is one of my dad's favorite spots in Colorado Springs – as proven by the fact that anytime we talk about meeting up for dinner, he suggests it. The food is typically very good and their beers are decent, so when some friends wanted to grab lunch and a drink, I wasn't hesitant to say yes to the request to go there. We went to the Roundhouse location off of Highway 24. It was a quick lunch so I didn't order anything elaborate, but CMB still impressed me with my simple sandwich and veggie order.
I ordered the Brewery Club Sandwich which had turkey, bacon, avocado, tomato, sprouts and a garlic aioli. I opted for them to leave off the Swiss cheese – I've noticed that on most club sandwiches there's always way too many slices of cheese so lately I've been requesting they leave it off and it seems like it makes a big difference in the overall taste of the sandwich. Plus with the avocado and aioli, it had enough flavor happening.
For my side I got the caramelized brussel sprouts which were tender and buttery and cooked with bacon bits. It was a nice change from the usual order of fries, and although the vegetables were tender, they weren't soggy or overcooked. I actually think they were the best part of the meal. If you aren't a fan of brussel sprouts, I would say try them here. I truly think CMB could change your mind on it. I think the key was the butter – they were veggies but I have a feeling they weren't as healthy as I'd like to pretend they were.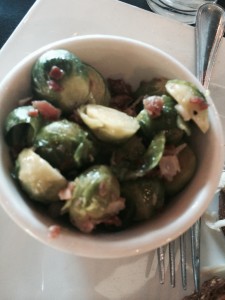 My friend Natalie ordered the fried fish tacos which were battered in 59er amber ale and served with coleslaw, mango salsa & spicy remoulade. I didn't taste them (although Nat claims they were SO good), but look at those things. I had to post a pic of them!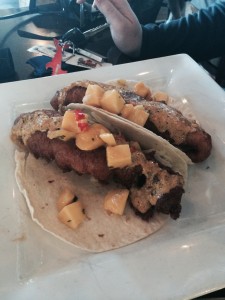 Alley and Joel shared the bread pudding which is to die for. I'm what one could call a bread pudding connoisseur, and I have yet to find a bread pudding in Colorado Springs that I like as much as the one at CMB. It's so gooey – but not soggy – just the way it should be. If you know of a place with a really great bread pudding comment and let me know so I can go try it out.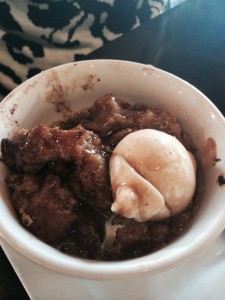 Some other yummy options that I've tried here are the bison poppers, the pulled pork sandwich and my dad's favorite, the smoked prime rib dip! They always have five house brews on tap as well as whatever their seasonal brew is. The other great thing is that there is a location far north on InterQuest and a location further south, so you can stop by whichever place is closer.