A good cupcake is a great way to finish a meal, but a booze-infused cupcake combines your after dinner cocktail with dessert. Sure, you can have a piece of cake and take a shot afterward, but why do that when you can order a dozen Drunk Cakes, delicious cupcakes with a dropper of booze so you can truly infuse your own dessert with select shots of alcohol.
Drunk Cakes isn't a new business, but wasn't I taken by surprise when I saw a friend post about this cupcake storefront that I'd never heard of. It's stayed a semi-secret because the owner and baker worked from her home to begin. Now, she's been at her shop off Powers Blvd. for 7 or so weeks, and she's kept busy. I stopped by to pick up a fun afternoon treat for my friends over at Epicentral, and it was the best decision I made all week.
I decided to do what you usually shouldn't do when you drink – I mixed booze. I picked out a variety of flavors and booze because I was curious which combinations would be awesome and which infused cupcakes would be best left as a sober treat.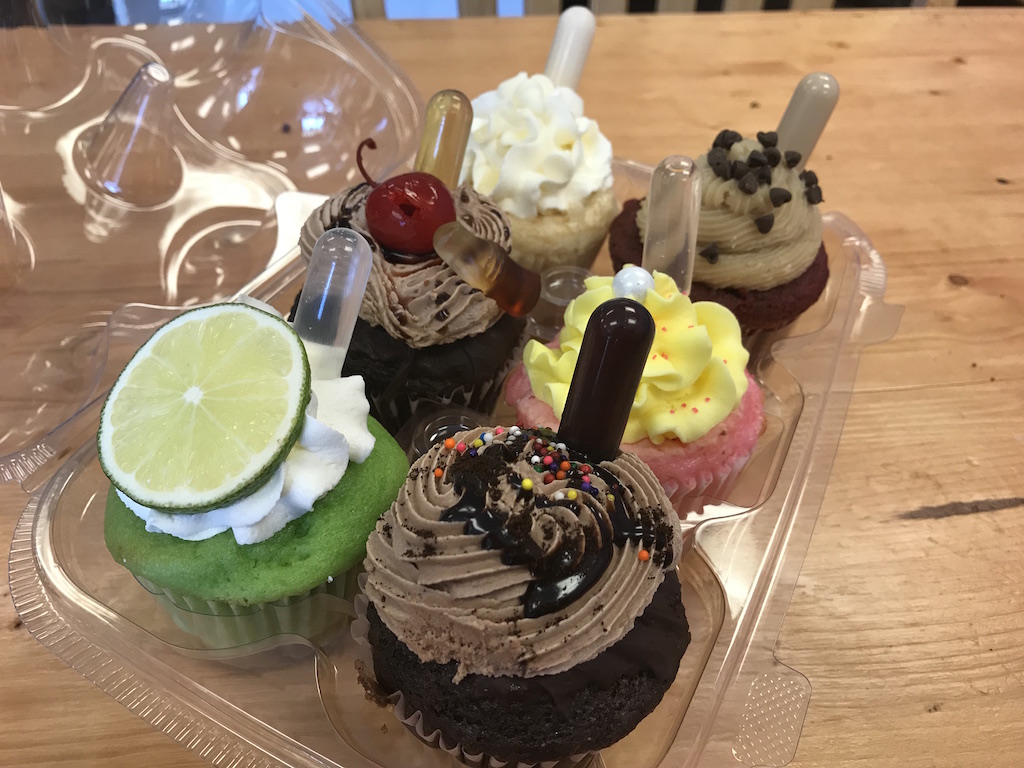 Here's how the cupcakes work: the cupcakes have a dropper filled with booze and you squeeze the dropper all over the cupcake to put the booze into the cupcake. The best way to do this is to move the dropper from place to place inside the cupcake, or you can just be bold and put the entire dropper into one spot in the cupcake. Heck, you can take a bite of the cupcake and then put a few drops of the booze on your tongue with the dripper – get creative!
Kahlua and Chocolate
White Chocolate Rumchata
Margarita
Pretty Boozy in Pink
Jack & Coke
Red Velvet Cookie Dough
Cherry Cheesecake
Flavors
White Chocolate Rumchata – White chocolate cake with a shot of Rumchata
Margarita – Vanilla lime cake topped with buttercream, lime and a shot of Patron
Pretty Boozy in Pink – Pink vanilla cake topped with pink and yellow buttercream and a shot of Rose Vodka
Jack & Coke – Chocolate cake and buttercream topped with Coke syrup, a cherry and gummy cola candies with a shot of Jack Daniels
Red Velvet Cookie Dough – Red velvet cake and cookie dough frosting with a shot of Bailey's
Chocolate Kahlua – Chocolate cake, buttercream and a shot of Kahlua
Cherry Cheesecake – Cheesecake flavored cake topped with cream cheese flavored frosting, cherry pie filling and a shot of Godiva White Chocolate Liqueur
My favorite flavor by far was the Red Velvet Cookie Dough cupcake. It sounds like there's too much going on with the different flavor profiles, but it worked well together and was delicious. I also loved the White Chocolate Rumchata, the Jack & Coke, and the Cherry Cheesecake. The others were good too and there was only one that I didn't love – the Margarita. The actual Margarita cupcake was delicious, but the shot of Patron was a bit much for me. If you absolutely love tequila, this cupcake is the one for you, but if like me, you have a few bad memories of tequila shots on your 21st birthday, give this one a pass.
Keep in mind that these cupcakes are only for you if you're 21+. Drunk Cakes is open from 8 a.m. to 7 p.m. Tuesday through Saturday and is located in the shopping center off Carefree and Powers. Cheers!