Chef Jay Gust opens great restaurants, so it's no surprise that Homa Cafe and Bar inside the newly opened Kinship Landing hotel is outstanding. Jay took inspiration from all over the world to create this delicious, cozy menu. Simple items like sandwiches and bowls are filled with amazing flavor. I tried SO many items, and still fill like I barely scratched the surface of the offerings available at Homa. Jay, you really outdid yourself with this new spot.
I wish I could single out one or two items that stood out from the rest as outstanding, but honestly everything was so good that it's truly impossible to do that.
The popcorn cauliflower (a vegetarian riff on popcorn chicken) was crunchy and flavorful. It truly had the texture of popcorn chicken and almost a week later my mind is still blown by it.
When it came time to try a sandwich, I walked in deadset on ordering the Amiko sandwich, made with a miso short rib. BUT if I've learned anything from my chef friends (thanks, Andres) it's that often times the best menu item is one you wouldn't have ordered on your own. That's exactly what happened at Homa. I decided that while I really wanted to taste the short rib, I'd let Jay makes the calls, and he was pretty adamant that I would love the North Park sandwich, made with roasted pork, caramelized onions, banana peppers, and a black garlic aioli. HOLY COW. This sandwich was wild. The bread, made by The Sourdough Boulangerie, is perfect. The meat? Perfect. The toppings? STINKING PERFECT.
Of course I should touch on the handpies, which are a fun menu item that isn't typical of a COS restaurant. The flaky crust is cooked just right, but what I'm really loving about these little pockets of happiness are the fun fillings. There's even a breakfast pocket! I tried the Momo which legitimately tasted eerily similar to a dumpling. It was awesome.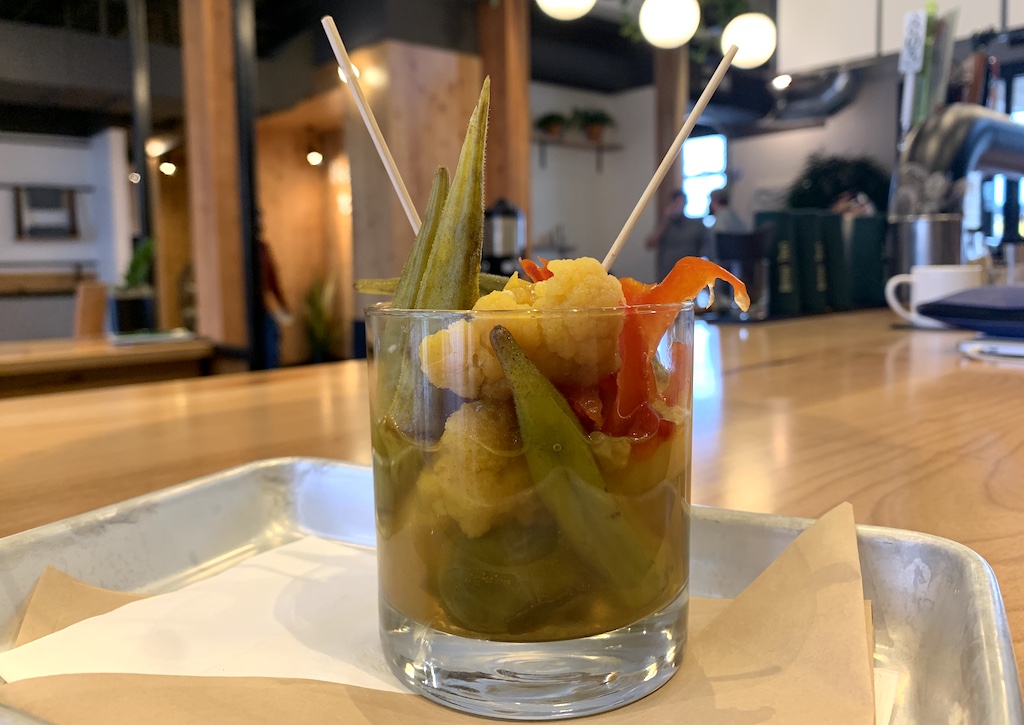 I can't recommend stopping by this cute hotel restaurant as soon as you have a chance. While the food is outstanding, the gorgeous space of this hotel is perfect for relaxing and truly enjoying the menu Jay has put together.
Homa Cafe+Bar is open now, but will celebrate it's official Grand Opening this Wednesday, March 10!