Phantom Canyon Brewing Company. The oldest brewery in Colorado Springs. I used to frequent the downtown spot on Friday and Saturday nights, playing pool on the second floor or ordering drinks before heading to the less classy establishments down the street on Tejon (RIP my party days). I've always loved their Bison Patty Melt and Tabasco Fried Chicken, but I haven't ordered a beer there in years because, to be quite frank, they had never been that impressive. And while I loved my two usual favorite food orders, the rest of the menu didn't do much for me in terms of making my mouth water. Until recently.
There have been some changes brewing at Phantom Canyon over the past year or so – literally. Head Brewer Charles McManus took over the beer operations, they've changed their menu and hired a new chef, and overall, the staff just has a different, more positive outlook and aura around them. Since last spring when I randomly stopped by for lunch, I've been regularly popping in for lunch, happy hour, brunch, and even a beer release or two.
Slowly but surely, they've won me back over, and if you haven't been to this long standing establishment in the past year, it's time for you to give them a second chance, too. I wasn't going to make this a list of reasons I'm loving Phantom Canyon, but I'm going to, just for the hell of it.
1. Brunch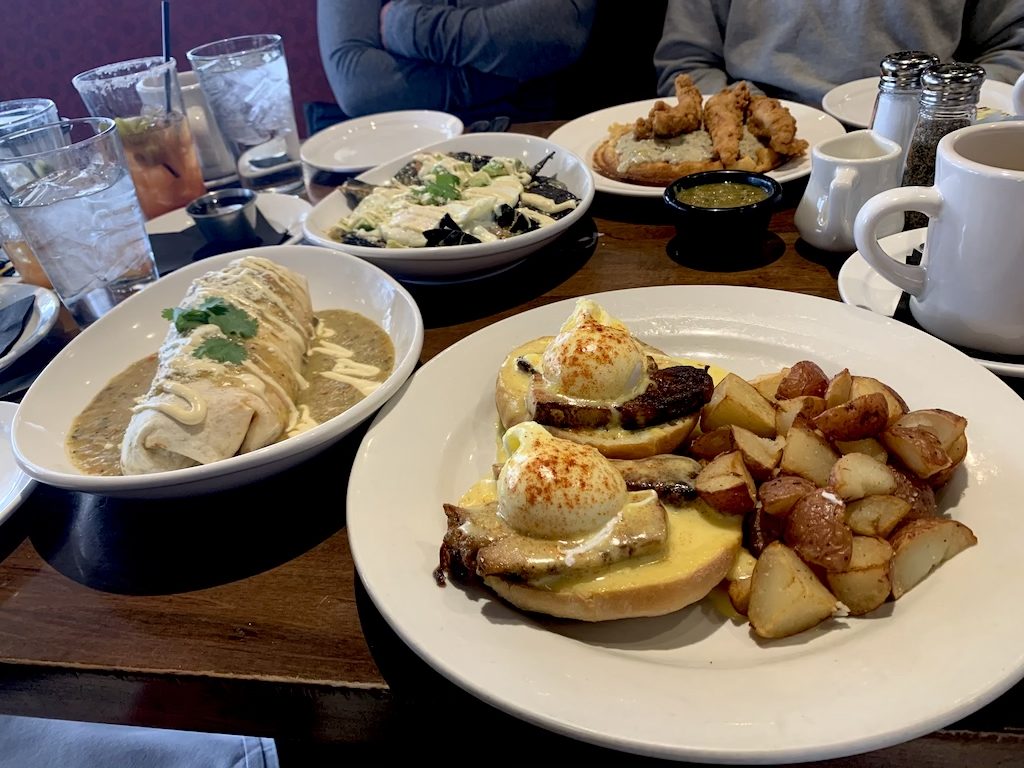 The most asked question I always get is where to go for brunch. And Colorado Springs has some great places. But I can guarantee that most people don't have Phantom Canyon on that list, and that's a mistake. They have cheap (and yummy) Bloody Marys and mimosas, and some of the best green chile in COS.
When I tell people about the green chile, they give me a weird look, but I highly suggest going in and smothering whatever you get with half of their vegan green chile and half of their pork green chile. Just listen to me and do it. Don't ask questions. My good friend Lauren is a Burqueña and is super picky on her green chile. I took her and instructed her, got the skepticism, and won her over. So just trust me on this one.
I loved all of their breakfast items, but the breakfast burrito is my favorite, and is what I am deeming the best breakfast burrito in Colorado Springs. Take a look at some of their brunch items, and you'll understand why I'm obsessed with spending Saturday or Sunday mornings there.
Elevation breakfast burrito smothered with both green chiles.
Chicken and waffles with a green chile country gravy.
The pork belly benedict with seared pork belly.
The chilaquiles with two eggs over medium.
2. Head Brewer Charles McManus (and honestly, all of their staff)
Head Brewer Charles McManus took over the beer operations about a year ago, and I'm impressed. Not just because of the way Charles talks about beer and his future plans for Phantom, but because he takes the time to tell you about it whether you're a food writer or a random beer geek. I headed to one of their now regular Saturday morning beer releases (which are free and include a pour of the beer, by the way), and he took the time to talk to every person at that release. Afterward, he indulged me and my date, and without knowing I was a food writer, chatted with us for at least an hour, even buying us another round of beers and letting us try a few others on tap. We have some amazing head brewers in Colorado Springs, but I was impressed with the kindness and passion of Charles. Plus, he is kicking ass on the beers over there, but more on that later.
Charles isn't the only staff member who has shown outstanding customer service. I'm not sure what they're putting in the water over there, but in the past year, every single server I've had has gone above and beyond to make sure my experience has been stellar. During a girls brunch a couple of weeks ago, I had what I think was probably the best service I've had in any restaurant in Colorado Springs. I also LOVE their Events Director Tricia Long, who is easy to work with and just super pleasant.
3. The Pretzels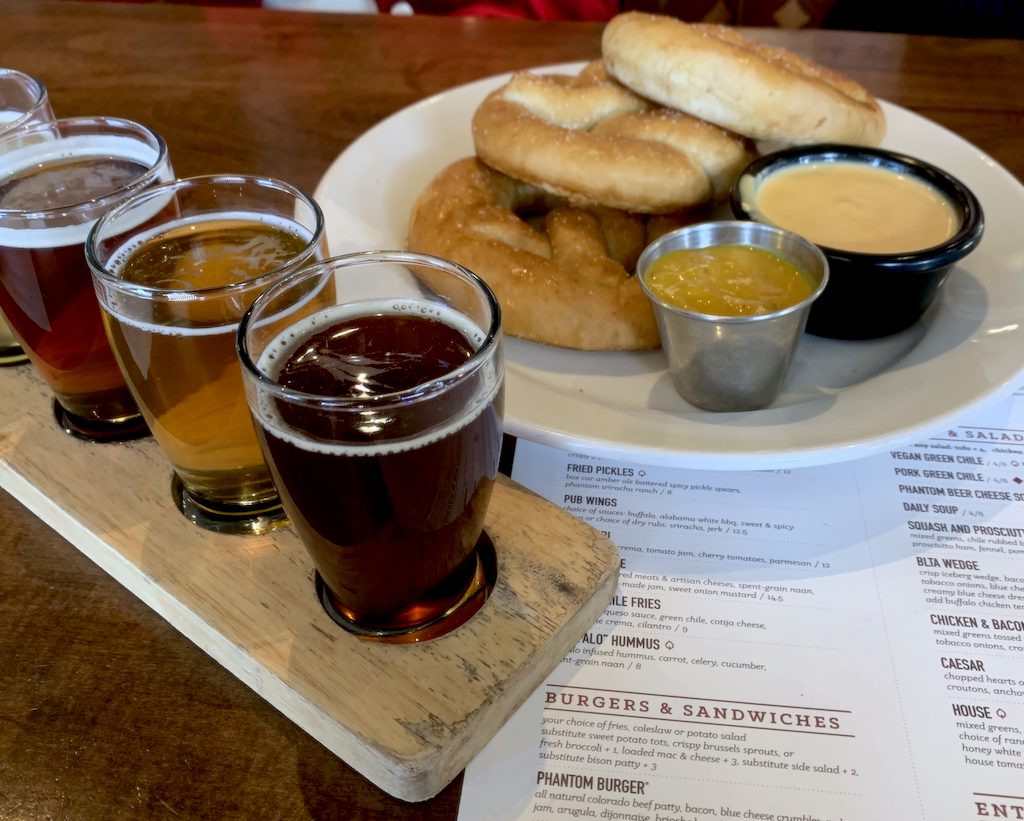 I have an obsession with what those in the food industry know as The Pretzel Man pretzels. They're served at a few places around town, and while one of my former stomping grounds used to serve them, stopped, and has put them back on the menu, they aren't prepared how I like.
BUT at Phantom Canyon, they're perfect, and served with box car amber cheese fondue, and it's the best. That's all I have to say. If you like carbs, order them. You're welcome.
4. The Beer
I mentioned this before, and I've had many agree so I don't feel guilty saying it. The beers at Phantom weren't very good for a few years. If you go to a brewery and would rather order a Moscow mule than any of their flagships, that's not a good sign.
But I don't feel that way anymore. Everything I've tasted over the past few months have been SO good. The flagships seem to be improved and constistent. Charles is creating some really fun beers that are not only creative, but taste great. My favorite was the Friendly Friction Climbing Session Ale that was brewed with  climbing chalk. Yes, CLIMBING CHALK. It's wild, but the beers are delicious, and it's really cool to see that a brewery in COS with so much history is doing their best to be better. Good for them, and even better for us (the beer drinkers).
5. The Rest of the Food Menu
As I mentioned before, I love the Bison patty melt and Lemon Tabasco Fried Chicken, but they have other menu items that are just killer. The Bacon Mac & Cheese is a shell pasta with a three cheese sauce loaded with crispy bacon and tobacco onions. The Vegan Tacos are filled with chili roasted butternut squash and pablano peppers. Yum.
And my personal favorite right now are their kick-ass chicken wings. They're cooked perfectly crunchy, but have enough sauce, and are some damn good wings. They come with buffalo, alabama white bbq, or a sweet & spicy asian sauce. I personally prefer their dry rubs which are either sriracha or jerk. I get the jerk every single time.
There are plenty of amazing new restaurants in Colorado Springs, but if you haven't been to Phantom Canyon in a while, it's time for you  to go back and have an entirely new experience with better beer, outstanding brunch, and a really great staff.
Disclaimer: While I was comped for brunch (one time out of many visits), my opinions on Phantom Canyon are my own and reflect my true thoughts on the restaurant, and did not in any way influence this post.