Normally I try my best to not eat at the same restaurant twice, or at least not when I'm visiting somewhere out of town. Last month in an effort to escape the Colorado winter, my mom and I decided to head to Arizona for a weekend of shopping, eating and laying by the pool, but while I was there I broke my own rule. We found a restaurant we loved so much that we ate there two days in a row. Postino Annex made me a repeat restaurant offender!
When we were planning our trip to Tempe I asked where was a must in terms of restaurants and numerous people told me that Postino definitely needed to be on my list. There are four locations in the Phoenix area so I knew we'd be staying close to one of them. Luckily, the Postino Annex location in Tempe opened in 2014 so after we got to our hotel on a Friday afternoon, we walked over to get their special. Every day from 11 a.m. to 5 p.m. they have $5 pitchers of beer and $5 glasses of wine. What more do you need in life? Bruschetta. We needed bruschetta and Postino had an awesome menu for it.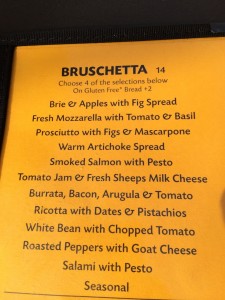 We opted on getting the Brie and Apple with Fig Spread, Prosciutto with Figs and Marscapone, Burrata, Bacon, Arugula and Tomato (BLT bruschetta basically) and Ricotta with Dates and Pistachios. It was incredible.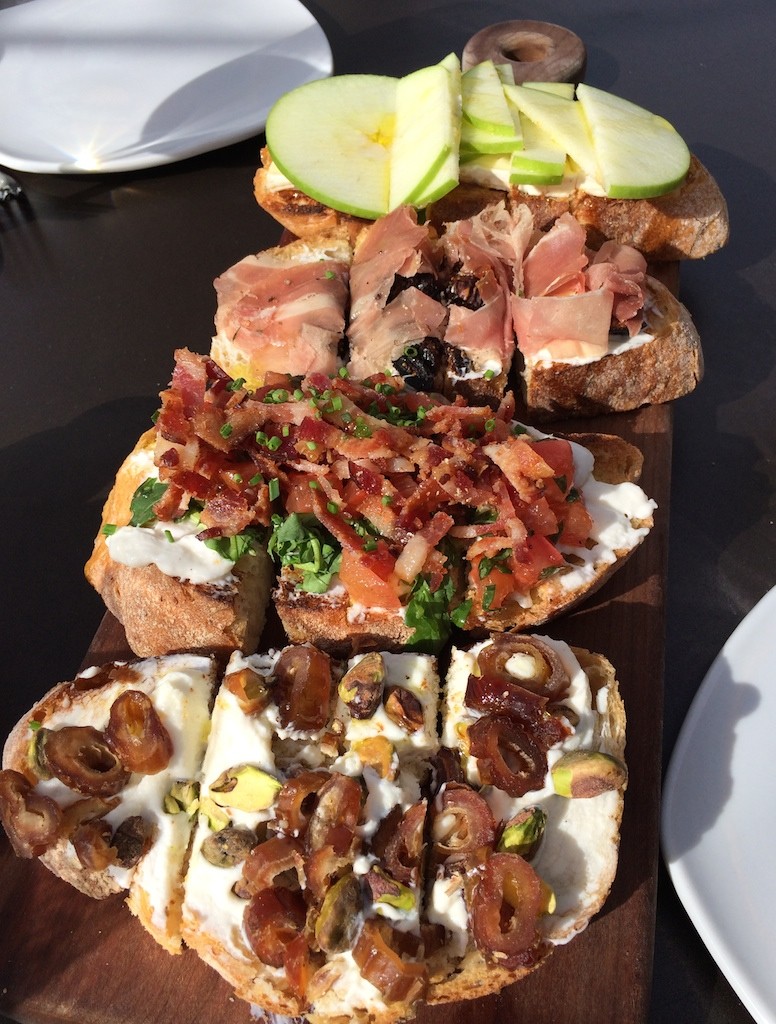 All of them were so good. Look at that picture – how could it not be? My favorites from this plate were, in descending order, Ricotta with Dates and Pistachios, Brie and Apple with Fig Spread, BLT and finally the Prosciutto with Figs and Marscapone. The best thing about the bruschetta was that it was cut into slices which made it so much easier to bit into (take note Colorado Springs restaurants).
The service was great and the patio had awesome seating. The atmosphere was trendy but comfortable. We had a couple glasses of wine – the selection was exquisite for $5 glasses – and then on the walk back to the hotel decided we probably needed to go back the next day. So we did.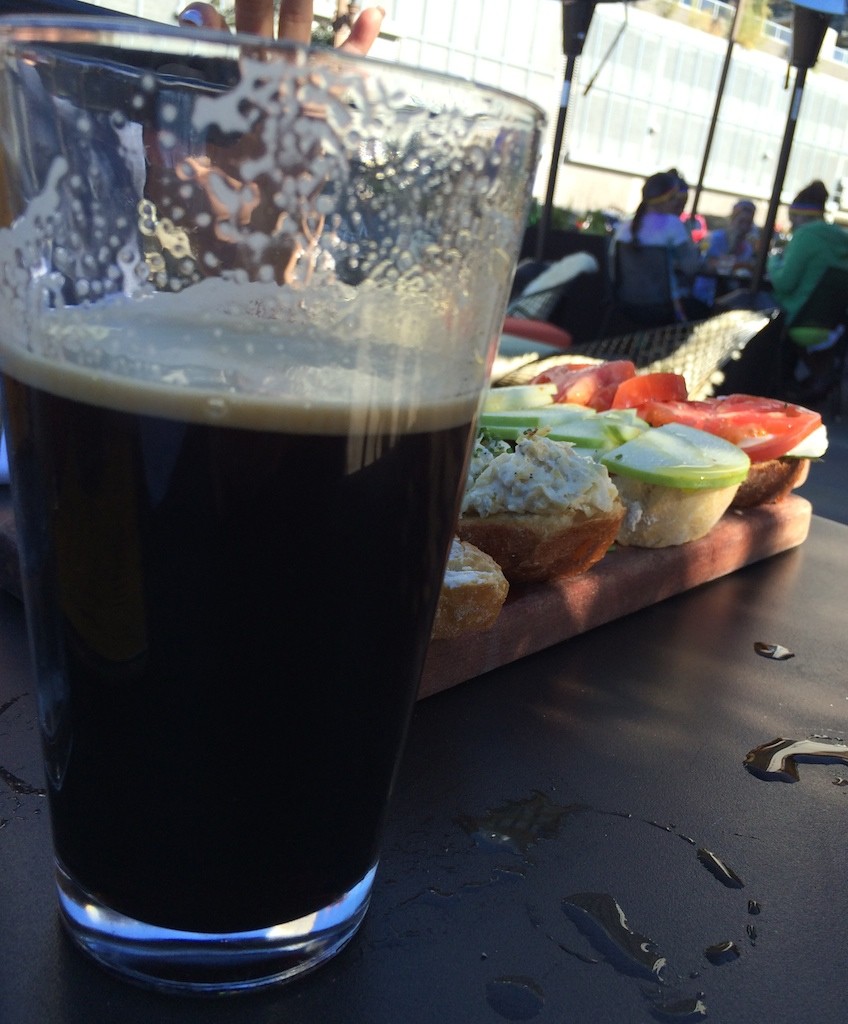 This time we got a $5 pitcher of Left Hand Milk Stout on Nitro. And when I say we got a pitcher I might mean we got two, or three. Details, whatever. It's a great deal.
For our bruschetta plate we tried to mix it up but loved the Ricotta and Brie bruschettas so much that we ordered those again, along with the Warm Artichoke Spread and the Fresh Mozzarella with Tomato and Basil.
Both of these were very good, but overall the Ricotta with Dates and Pistachios was our absolute favorite. I've been waiting for an opportunity to recreate it for a party or wine night.
This was absolutely one of the best restaurant experiences I've had. The food, although simple, was fresh and consistently delicious during both visits, the service was great, atmosphere was spot on and the prices were SO reasonable.
Now here is the best part about this entire post: POSTINO IS COMING TO COLORADO! I repeat, Postino is opening a Denver location! We made friendly with our server, partially because he was cute (hey, I'm only human) and partially because he remembered us from the day before (awkward) and when we mentioned we were from Colorado he was quick to let us know they were opening up in the Mile High city. I double-checked online and according to Denver Eater, Postino will open a location in LoHi sometime this Spring. My life is officially complete.
For now I'll continue frequenting wine bars in Colorado Springs, but don't be surprised if I disappear or only post about bruschetta once Postino opens because I'll probably singlehandedly keep them in business.