In honor of my birthday a couple of weeks ago I thought it might be fun to write about some of my favorite cakes in Colorado Springs. Cupcakes to be exact. I do love The Cupcake Doctor, however there's another cupcake company in the Springs who in the past few months has caught my attention and tastebuds. The Cupcake Girls are located downtown and I have officially decided to rename them the Cupcake Queens. As a thank you for some work my company did, a blogger sent us a big assortment of cupcakes a few months back and wow. They were phenomenal.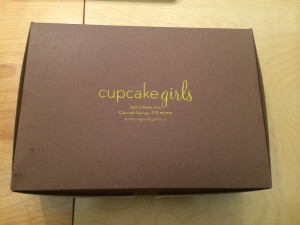 We didn't even know the flavors we got (I made a few guessing attempts based off tastes, descriptions and photos), but I don't think anything we tried disappointed. The flavors we THINK we were sent were The Dude, which is inspired by a white Russian, Coffee Talk, topped with bailey's and coffee buttercream, Serve with Champagne, a devil's food cake with chambord,  SoSo Sweet and Salty, frosted with a salted caramel butter cream, and Poppin Bottles,  a mimosa inspired blackberry and champagne cupcake.
I did get to taste all of the flavors, but I LOVE blackberries and decided to eat an entire Poppin Bottles cupcake. It was dense, moist and topped with an airy but still full frosting. I usually don't care enough to eat the frosting on cakes or cupcakes, but this topping was worth the calories.
I really enjoyed the refreshing flavor of the berry cupcake, but my favorite of the bunch was probably the SoSo Sweet and Salty cupcake. I love salted caramel. The Cupcake Girls menu had a huge list of unique flavors. Some of the ones I can't wait to try in the future include The Boston, which is a savory corn cupcake baked with Sam Adams Angry Orchard and brie cheese, then topped with an apple and pear balsamic reduction, or the Allez Bananes, which is a Nutella cupcake topped with a Nutella cream cheese frosting.
Cupcake Girls are open from 10 a.m. to 5  p.m. Tuesday through Friday and from 11 a.m. to 5 p.m. on Saturdays, but the store will close early if the cupcakes sell out so be sure to get there earlier in the day if you have your heart set on a certain flavor.