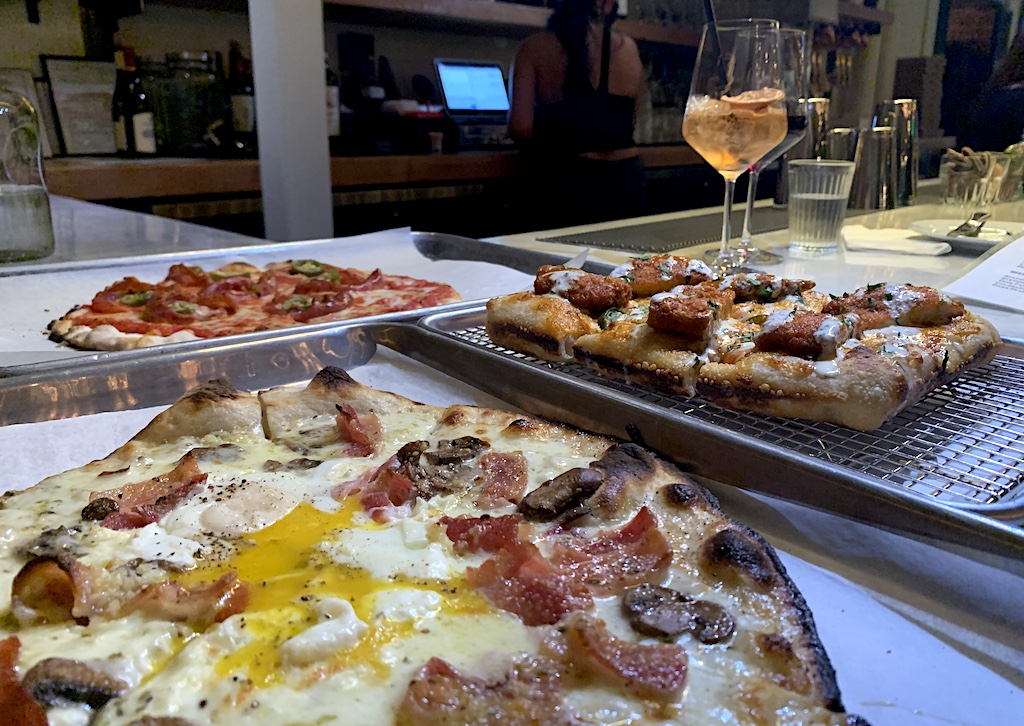 In 2019, just before Jason Wallenta opened Dos Santos in Colorado Springs, I headed to Denver to get a preview of what was to come. After that preview, I knew his concepts were special. Even then, Jason was planning on opening White Pie in Colorado Springs – he was just waiting for the right place to put his second concept.
Well the wait is over, and DAMN, it was well worth it. White Pie is officially open to the public. Located off Nevada, just north of Loyal Coffee, they will open at 5PM all weekend, close Monday, and will open beginning at 11AM daily on Tuesday.
White Pie will serve up Connecticut style pizza made in their gas pizza oven. Their traditional Connecticut pies have a thin and crispy (yet ply-able) crust, while their Sicilian pies are a square, deep dish style (my personal fav). Appetizers include a variety of small shareable plates that Jason said will expand as time goes on. I don't have much to say about the food except that it was SO. FREAKING. GOOD. I'll let the photos speak for themselves.
Asbury Park Sour (Four Roses Yellow Label Bourbon, Nardini Mandorla, Lemon, Lambrusco Float) & Strawberry Frosé (Rosé, Vermouth, Strawberry Puree)
House Puff, Burrata, & Cocktails
Burrata (Liuzzi Burrata, Tomato Medley, Basil, EVOO, Hot Honey)
House Puff (Oven Puffed Bread, Whipped Garlic Rosemary Butter)
Wood Fired Heirloom Carrots (Fire-Roasted Heirloom Carrots, Pomegranate Seeds, Tahini Sauce, Micro-Greens, Garamond Masala Spice)
Buffalo Bird Sicilian Pizza
Porky Porkorino (House Red, Mozzarella, Sopressata, Pickled Chiles, Hot Honey)
White Pie (Crème Fraîche, Mozzarella, Garlic, Bacon, Crimini Mushroom, Sunny Egg)
Brownie Special
Cannoli (Chocolate & Pistachio Covered Shell, Vanilla Whipped Ricotta, Chocolate Chips, Lemon Zest)
While the food is outstanding, let's not forget the other parts of what make a restaurant great. I'm talking the atmosphere and the hospitality. The space is absolutely gorgeous. I didn't take photos because I know I wouldn't be able to do this place justice. It has a HUGE patio space (the patio will be ready in the upcoming weeks), as well as an intimate, cozy interior. There's plenty of bar seating if that's your thing (it's my thing), as well as a mix of communal and small tables and booths. Beautiful string lights drape across the center of the restaurant, which really gives it a sexy vibe.
AND THE STAFF. Jason did a great job of snagging some of Colorado Springs' best bartenders and servers. Dos Santos' staff has always been top notch, and quite a few of the servers and bartenders from there will float over to White Pie and work both restaurants. The real catch are two of my all-time favorite bartenders – Kande and Renee. If you're grabbing a drink while they're working, they will make you something special. It's going to be a treat to have them working downtown.
Denver Restauranteurs in COS
I'd love to point out how impressed I am with the commitment to Colorado Springs other restaurant owners from Denver have shown as they shift their focus to building concepts in our city. Jason of Dos Santos/White Pie & Pariza Mehta and Kelly Morrison of Ambli are just a few who stand out to me as not only elevating the culinary scene in Colorado Springs, but taking the time to actually live and work here daily. They're bringing down some of their staff from Denver, frequenting other locally-owned businesses, and from what I've seen, doing their part to better our city. I love a hometown hero, but if we're going to get restaurants moving here from up North, I love seeing them actually embracing COS and helping us grow in a positive way.