Blank Coffee Food, an Atlas Restaurant Group entity, has officially transitioned into Wyeline. The eatery and bar, located at 600 S 21st Street, will continue to carry their infamous donuts and coffee, but will also have a variety of snack and dinner items, including charcuterie, sandwiches, sausages, and cocktails. Wyeline's tag line is Sun Up to Sun Down, with the idea that guests will join them in the AM for coffee and donuts, and after hours for a late night cocktail and a bite to eat. The restaurant's rebrand comes just ahead of its sister venue CO.A.T.I's highly anticipated opening.
I got a preview of the menu last weekend, and everything was SO. DAMN. GOOD.





While I loved ALL the food, my favorite was the BBQ Jackfruit Sandwich. I was also a big fan of the cocktails. They were boozy and fun and creative. The best way to describe the bar program at Wyeline is elegant yet approachable.



Wyeline is officially open to the public, and I'm super excited to host one of the first events in the space for Charc Week! From 2PM – 5PM we'll have charcuterie specials, cocktails specials, and giveaways every 30 minutes! Plus, the Wyeline team has put together a BEAUTIFUL board on special for $24. Get the board AND a bottle of wine for $40!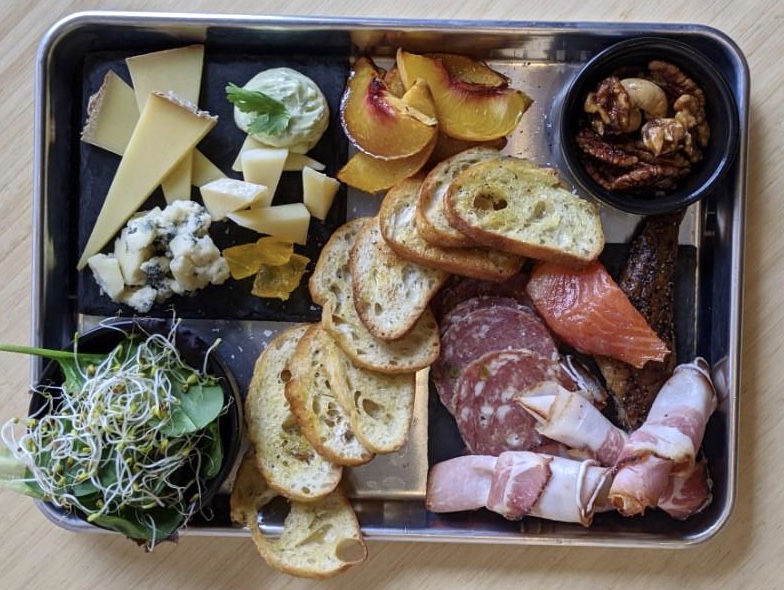 Come check out the AMAZING new space during our Charc Week Launch, or stop by during regular hours. Wyeline is open Monday through Wednesday from  7AM to Noon and Thursday through Sunday from 7AM to 10PM. If you're smart, you'll stop in during Donut Happy Hour from 11AM to Noon.