Las Vegas, New Mexico. Most people don't know even know that the town exists because when people hear Las Vegas they automatically think of casinos and night clubs, but about four hours south of Colorado Springs the small, northern New Mexico town is home to El Rialto Restaurant & Lounge.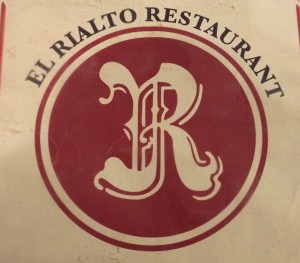 This place has a special spot in my heart and mostly it's because of their crazy good chicharrone tacos, but let's start with their appetizers. We always order a half order of guacamole and it is more than enough for three people. I don't mind the bagged chips, but my mom always insists on the house-made ones – which the waitress always tries to accommodate (they aren't always available). The chips are thick and crispy and the guacamole is flavorful but not overloaded with spices. As an avid avocado eater, I approve of this guacamole. Their salsa got mixed reviews – I say its eh but my mom loves it. They charge for the chips and salsa so I personally don't think it's worth the extra cost, but again, I'm all about that guac.
We also ordered margaritas on the rocks. The margarita mix tasted pre-bottled and it needed more lime. They weren't bad, but I've had much better and would've been just fine with water instead.
Now to the best part – the actual meal. My dad ordered a beef and bean stuffed sopapilla topped Christmas style with a side of papitas. Christmas style is a New Mexico way of saying topped with half green chile and half red chile. New Mexico has it's own unique style of food so don't expect it to be Texas chili with beans or just a simple enchilada sauce – chili and chile are different.The chile in New Mexico isn't the same as Tex Mex or even Colorado Green Chile. Papitas are just fried potatoes.
Dad's meal was good, but I don't go to the Rialto for the sopapillas, I'm there strictly for the tacos. El Rialto probably has the best tacos in New Mexico and on its reviews, many New Mexico natives agree with me. They fry the taco shells themselves and they don't skimp on the meat. My mom lives for their ground beef tacos and I like their carnitas tacos, but what I LOVE is their chicharrones tacos. Chicharrones are fried pork cracklings. Many times people think of pork rinds, but when you fry the pork skin with meat still attached it creates this crunchy, flavorful meat that is great in tacos, burritos and stuffed sopapillas. They're not easy to make and you can find recipes to try, but I prefer to visit El Rialto a couple times a year to get my fix. My tacos during this visit were perfect.
Chances that you'll ever be driving through Las Vegas, New Mexico is probably slim, but if you have the opportunity to stop, make your way to El Rialto and order the chicharrones tacos. It'll change your life.