You guys. I made a big mistake. Like a really big one. If you've never been in a pizza coma, you too will probably experience the same pain and pleasure that I had all afternoon long as soon as you hit this AMAZING place I'm about to tell you about. I literally got home from Lincoln Center and couldn't leave my bed for FOUR HOURS. I'm not exaggerating. Here's why: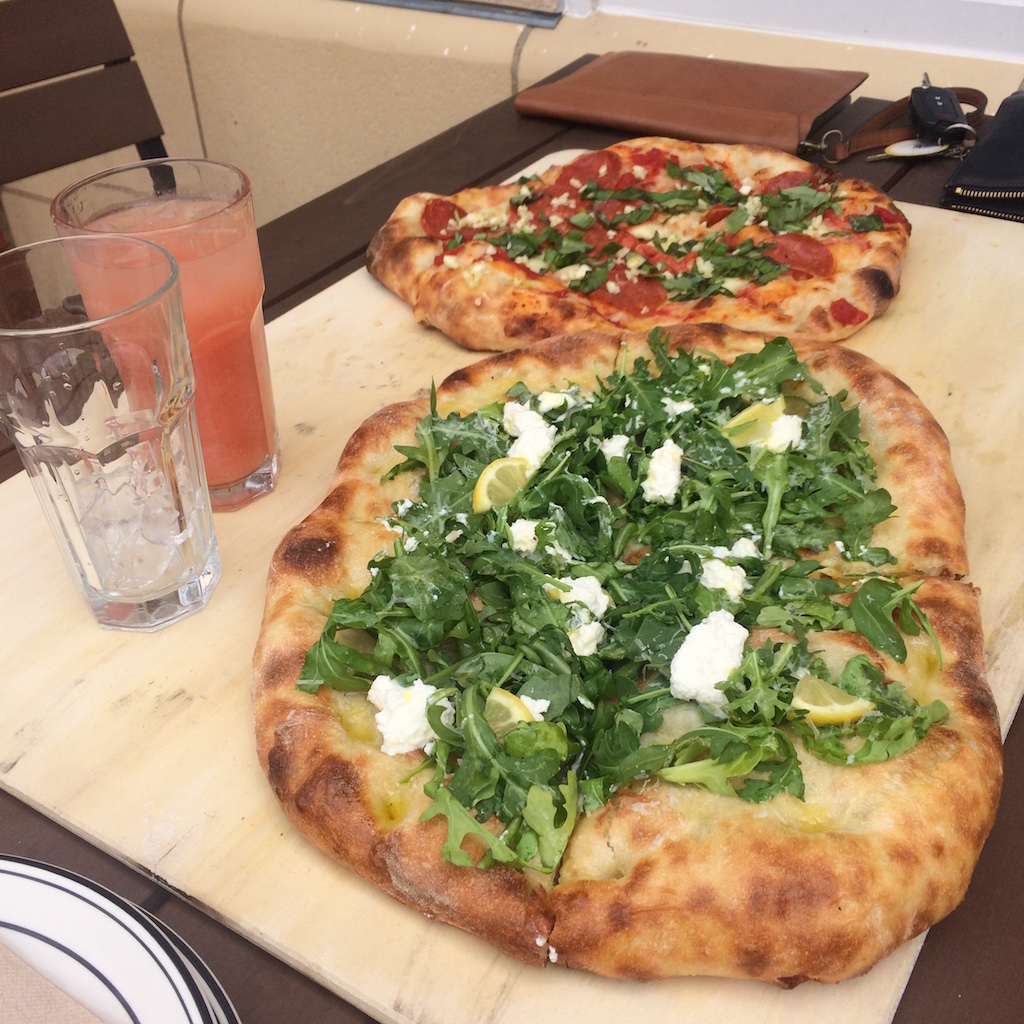 Can you blame me? I mean really though, I'd do it again. And I probably will every single Saturday 'til the end of time. These insane pizzas that caused me to literally eat so much I wanted to puke (you're welcome for that visual) are from Nightingale Bread, your new favorite place to eat in Colorado Springs. Yes I know, I rave about every pizza place I go to – partially because I've never met a pizza I wouldn't eat – but this spot is on a whole other level. And their decorations are to die for. SO CUTE AND RUSTIC.
First off, if you haven't checked out Lincoln Center, that's where you need to start. This reformed elementary school is similar to Ivywild, minus all the boozy fun (at least for now). It's filled with fun things like a coffee shop, a smoothie bar, and even a CrossFit gym.
But let's just cut to the chase. The bread here is outstanding, and they bake different loaves all the time. I'm super fond of their baguettes which are crunchy on the outside, chewy on the inside, and a beautiful offering to bring when you go to someone's house for dinner (obviously with a bottle of wine). The Kansas Red is yummy too, along with everything else.
The secret is to come pick up a loaf of bread between 11:30 a.m. and 2 p.m. on Saturdays, because that's when the real magic happens. This is the only time you can order pizza here and there are people WAITING to do just that. They offer three or four different types of pizzas, and you can order a half or whole. Honestly, one slice is more than enough (and I'm not someone who doesn't eat a lot). I suggest bringing a friend, ordering a half pizza, having them order a different half pizza, and eating so much you can barely walk to your car. Totally worth it.
If these pictures don't get you excited for the weekend, I don't know what would. You're welcome for waiting to post this until a Thursday because making you think about this pizza for a full week and you not being able to order it would probably have been hell.
I could go on and on about how chewy the crust was, or about how fresh the toppings were, but those pictures basically say it all. Even the leftovers were better than most fresh pizzas I've had.
Nightingale Bread is open from 7:30 a.m. to 6 p.m. Wednesday through Friday, and 8 a.m. to 4 p.m. on Saturday. But remember, pizza is ONLY available from 11:30 a.m. to 2 p.m.
Happy carb-loading!