My mom has been ranting and raving to me for months about this wine bar she went to about a year ago but she could never remember the name. All she knew was it was above La Baguette in Old Colorado City.
"It doesn't have a sign above it and it looks like you're walking into an apartment but there's wine."
Ok, mom. Sounds REAL promising. Now luckily, I get my impeccable taste from my mom, so although this sounded a bit sketchy, I had to take her word on it. After a bit of Googling to figure out if this was a real place and if it was still open, I was able to confirm that my mom wasn't just walking into random stranger's loft and asking for drinks, but that it is a real business. There isn't a website and the Facebook page which calls it Upstairs at La Baguette hasn't been updated in a bout a year, but there's a Yelp page  to prove it's still in business.
When my parents and I walked into this place, I almost asked my mom to pinch me. It was so cute and the wine that lines the walls … let's just say I was a happy camper.
It was super cozy and definitely a great place for a date (take note fellas). Right away they brought us a complimentary basket of bread along with oil for dipping and some other condiments to dip the fresh baked bread in.
After perusing the extensive wine menu for about 10 minutes, we finally agreed on letting my dad get the bottle he thought looked best – meaning he started Googling wine names to see which had the best ratings. Our family likes to Google things.
We ordered a great bottle of Malbec which I'd definitely recommend.
We also ordered a meat and cheese plate. It had some bleu, brie and muenster cheeses as well as prosciutto, salami and another meat that I'm not sure of what it was. It was mediocre. The meats were good but the cheeses were all very salty making it a bit hard to enjoy. The menu here is pretty small. The couple next to us ordered fondue which looked ridiculously good, but it only comes with apples and bread. I want more than apples and bread with my cheese fondue hence we passed, but after seeing the couple next to us eating it I'd probably try it on my next visit.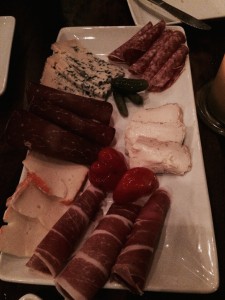 After we finished the bottle I got one last glass of white wine which my waiter helped me to pick and then we left. This place is truly a hidden gem. Not only did the waiter (or is he a bartender?) seem knowledgeable and patient when it came to helping pick a wine that was right for us, but the atmosphere was one that I don't think is easily found in Colorado Springs.
Upstairs at La Baguette opens at 6 p.m. Thursdays, Fridays and Saturdays.