Today at work my boss decided to treat us to lunch and beers to celebrate Oktoberfest. My boss loves to cook so usually we'd fire up the grill for brats and assign everyone a side dish to bring, but work has been extremely busy so for the sake of time, we ordered lunch from Schnitzel Fritz, a German restaurant located on the East side of Tutt Blvd., kind of tucked away opposite from Car Max.
When my coworker and myself walked into the restaurant to pick up our order, the atmosphere wasn't anything that made me want to stay, but it smelled REALLY good. We grabbed our order, decided to get a few of the pastries in the counter window, and waited to check out the food until we got back to work. Opening the containers we weren't sure what to expect as none of us had ate here before. We really had quite the spread.
Our Schnitzel Fritz feast included:
And for dessert:
Overall the food was good. The brats were cooked well, the schnitzel was delicious, the Jager sauce was decent, the sauerkraut was tangy, but the best part of the meal was the German potato salad. It wasn't too creamy or dry, didn't have any weird extras in it, and it wasn't too filling.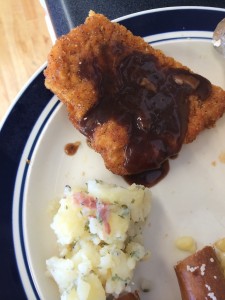 Unfortunately for me all of the desserts weren't worth a second bite. The cakes were just eh and the apple pastry tasted like canned apple pie filling inside a boring, somewhat soggy crust.
I don't know that I'd eat here again. I think the food was good, but I could probably prepare a German meal at home better than this one.