Do you have a Valentine's Day hangover from sitting at home, eating cheesecake from Marigold and downing an entire bottle of pinot all alone? That's only me? Oh, ok. Usually I'm not one for sweets – I'm more of an eat my feelings in pizza kind of girl. Or nachos. Sometimes both. Lately, though, I've been reaching for the sugary treats instead.
Sometimes I see a picture of a dessert that keeps me up at night, and I know I have to veer away from the nachos in order to cure that craving. Last night it was cheesecake, but last week, it was a post from a friend about Sasquatch Cookies, and I knew there was no turning back. I HAD to have them.
Sasquatch Cookies isn't your run of the mill bakery: they make late-night cookie deliveries. It doesn't matter if you're studying, or have the munchies, or don't want to put on pants – hey, we don't judge here – they'll bring warm, fresh out-of-the-oven cookies to you. Maybe put on your pants when the doorbell rings, though.
How happy was I to open my door Friday night to a cookie delivery man with a warm box of cookies just for me? Pretty damn happy.
The box was filled with every almost flavor. The cookies were warm, and they were huge. We're talking the size of my face. The Monster cookie was truly a monster. WHICH IS EXACTLY THE SIZE ALL COOKIES SHOULD BE.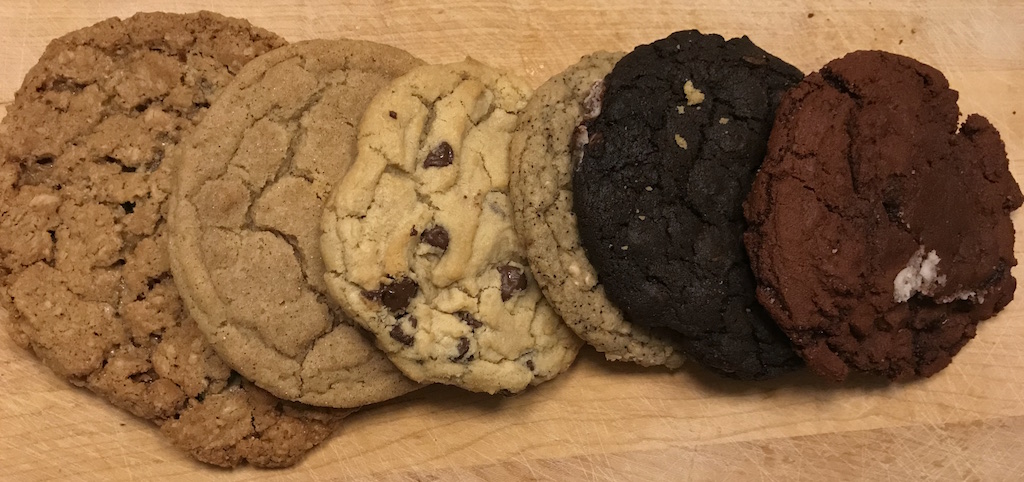 The flavors I received were Chocolate Chip, Double Chocolate Chip, Monster Cookie, Snickerdoodle, Caramel Macchiato, Red Velvet and Gluten Free Chocolate Chip. All of them were yummy. My absolute favorites were the Snickerdoodle and Caramel Macchiato. I love to reach for a traditional Chocolate Chip, but the Caramel Macchiato is made with espresso and wow. I seriously loved it. I shared the other cookies with some friends of mine who came over for girls' night but I definitely kept those two flavors to myself.
Sasquatch Cookies delivers on Thursday, Friday and Saturday nights. Their prices are reasonable, and you can order milk to be delivered with your soft, chewy, delicious cookies. Warm cookies and cold milk? Sounds like the perfect Friday night to me!
So let's get to the important part. Use the code LUCKY10 for 10% off your next cookie order. The code is good until March 31, so you have plenty of time to eat your feelings.