When it comes to anything chai, I don't mess around. Almost every coffee shop offers chai in a variety of forms – chai tea, chai latte and my favorite, spicy chai. The perfect cup is spicy enough that your throat tingles for a few seconds afterward, but still calm enough that you want to drink a second. or third. or fourth. Ok I like warm drinks in the winter.
Yesterday I needed to get some work done and working from my actual house is never productive, so I decided to walk to Jives Coffee Lounge for a few hours.
I've tried the spicy chai at almost every coffee house I've been to Jives definitely  takes the blue ribbon. It consistently is perfect. I've yet to have a bad spicy chai there.
Jives is a cute place to grab a bagel and get some work done.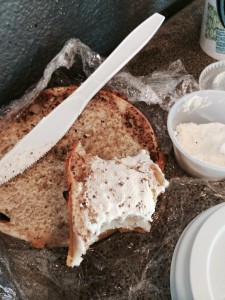 There's free wi-fi and they now have a location off Nevada. I frequent the OCC location, but I'm sure the new lounge is just as charming. They also have a stage and microphone for live music. I haven't attended any shows yet, but it seems like a relaxed spot to cozy up and sit around for a while.