Who doesn't like chocolate? Crazy people who hate happiness, that's who. And when Jacquie was diagnosed with fibromyalgia at the young age of 22, she found a way to make even health freaks start stuffing their faces with the sweet treat. Jacquie is the owner and founder of Radiantly Raw, a raw chocolate company based out of Colorado Springs whose goal is to not just keep the bad stuff out of chocolate, but to only add ingredients that have some sort of health benefit to them. With the diagnosis, Jacquie tried eating healthier and after finding how much better she felt when eating organic foods, she found a way to turn her love of chocolate into a business and make finding a delicious dessert easier for those who are health conscious.
The raw chocolatier recently launched an online store for the goods and let me take home her holiday assortment at the online launch party at Urban Steam. What a sweetheart. Before I even get into how good these chocolates taste, I have to mention how kind and willing to teach you about her product Jacquie is. She made sure to explain the benefits of every ingredient when a customer asked and even made suggestions on what I might like.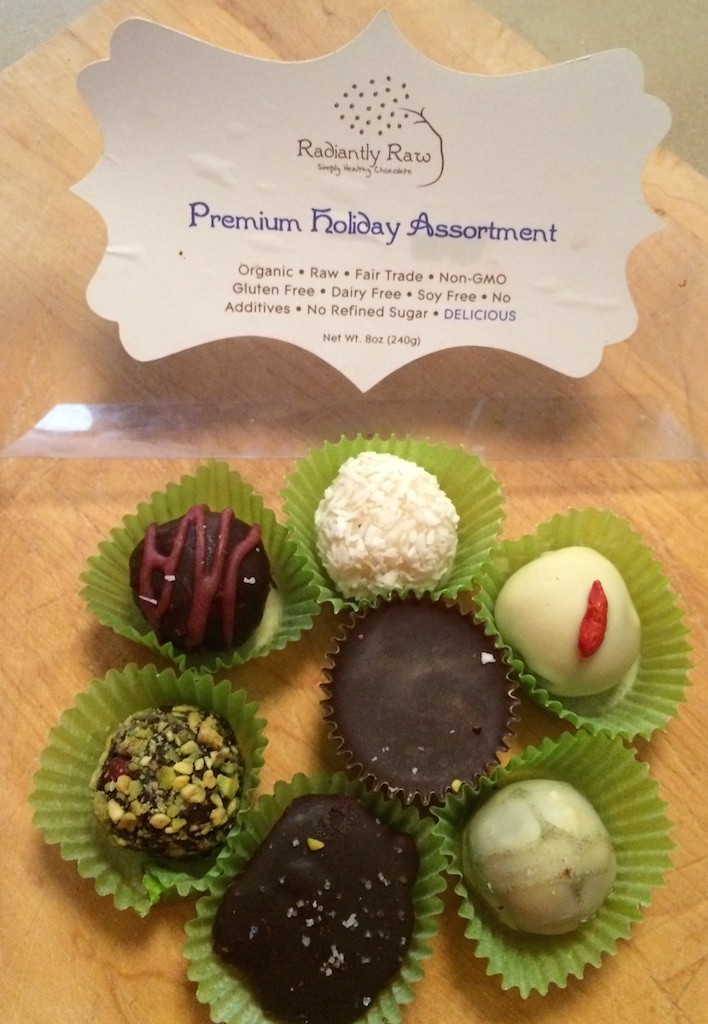 There were seven different truffles included in the Radiantly Raw Holiday Assortment and I barely made it home before I ate my first one. Didn't even get a picture of the complete package first. Oops.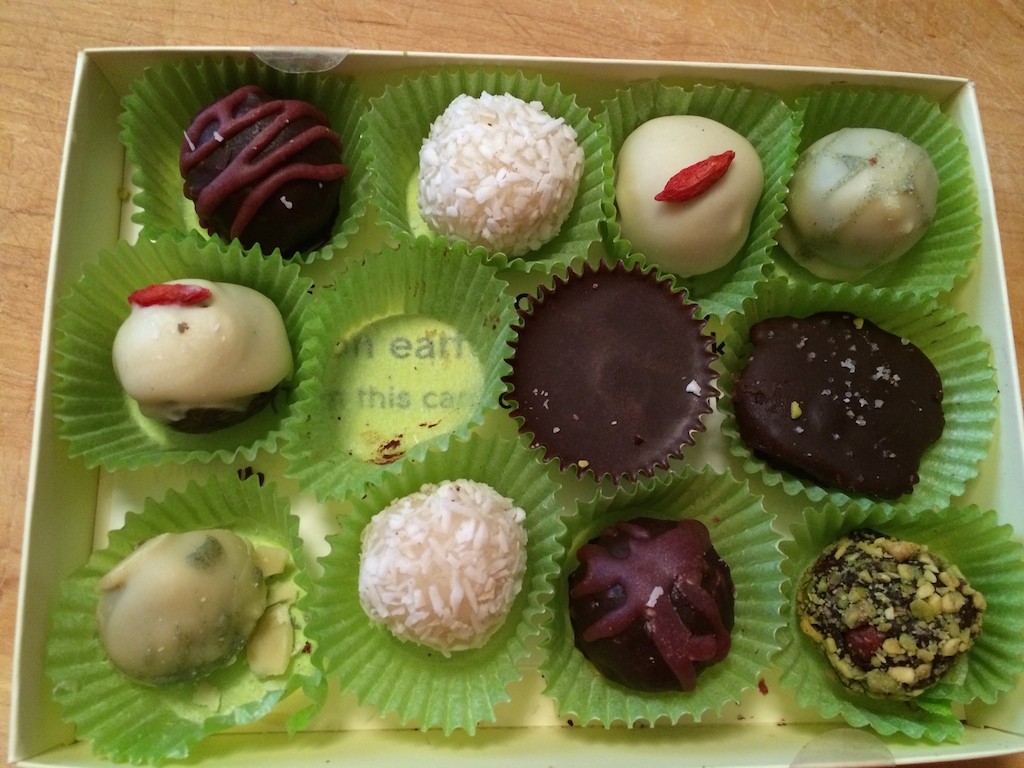 The chocolate though? So worth the quick divulgence. The first one I tried was the Pecan Turtle. It was smooth and creamy – not what I ever imagined raw chocolate to be like. It's sweet and decadent and I wished the whole box was filled with them.
Correction. I THOUGHT I wanted the whole box to be filled with them. That was until I tried my next chocolate. The Vanilla Cashew Cup. Oh my gosh…that thing was no joke. The vanilla cashew butter that filled the chocolate cup tastes like sugar cookie dough. It was too good to be healthy – except that it was – which made me feel less guilty when I ate the second Vanilla Cashew Cup almost immediately after finishing the first. IT WAS HEALTHY SO IT IS OK.
My third and fourth favorite were the Orange Cranberry Pistachio Truffle and the Coconut Cherry White Chocolate Truffle. The first was zesty but still sweet and the pistachios added a fun texture. The coconut cherry was sweet but not too sweet and the fact that it was rolled in coconut won it extra points in my book.
As my chocolate taste testing progressed, so did my happiness. The final three in the holiday assortment are the Fruitcake Truffle, Gingerbread Truffle and Dark Chocolate Hazelnut Truffle. All three tasted like their names. It was kind of amazing.
Here's what really gets me about these chocolates. A lot of health foods, particularly foods that are typically sweets, do not taste very good, or even close to their original, when they're made into a  healthy version. These chocolates are better. I'd eat any of Jacquie's Radiantly Raw creations before a Hershey's bar any day. Everything I've tasted from her kitchen has been something I feel was truly a treat rather than a healthy knock-off.
Radiantly Raw takes orders online and also sells at a few retailers throughout the Colorado Springs Area. Jacquie also tends to be at a lot of events hosted by other local businesses so if you like their Facebook Page you can probably find out the next time she'll be out and about.
If you've already tasted Radiantly Raw chocolates then you know how good they are – and that they have some of the best chocolates in the Springs. They've been nominated for the Gazette's Best of the Springs and are up against some stiff competition so be sure to VOTE for them in the Best Mobile Business and Best Truffle categories! Voting ends February 15 so cast your vote.
And if you're already a month into your New Year's Resolutions, remember to stick with it and that eating healthy doesn't mean giving up chocolate…it just means buying it from Radiantly Raw. I mean look at the Valentine's Day assortment!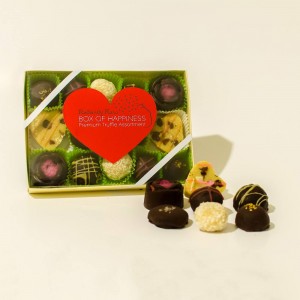 Plus from now until February Jacquie is letting SpringsNative.com readers get $5 off of a $30 purchase by using the promo code Springsnative1